A very old idea is that when you situate yourself in the physical world–in relationship to the presence and energies of your place on earth and in the cosmos, where you are right now–you restore your right relationship with all creation, and with your inner self.
The simple notion of knowing where East, South, West, and North are in relationship to you (let's also include Above and Below and Within)–and reestablishing your awareness of the archetypal energies of each direction has the effect of activating those qualities within you, or reawakening them.  You stand at the center of this web of possibilities and guidance for yourself.
The ceremonial practice of "calling in the directions", by greeting the Four, Seven, or Eight directions and welcoming their qualities serves to remind you on an inner level that you are an essential part of this weave.  All of this is part of you, and you have a place in this weave.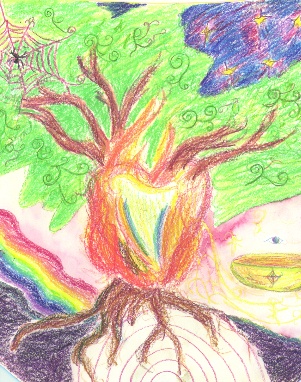 Many associations exist for the Directions.  Here are just a few for the Seven (you can find associations with Eight Directions in my post Where Does Where You Are Say About Where You Are).  What are your associations with the directions?
East: Welcome, birth, new beginnings, inspiration, air, home, prosperity
South: Joyful focus, fire, Óran Mór (the Great Song or divine song within both the universe and within you), summer, adolescence
West: Celebration, community, knowledge, longing, autumn, adulthood, harvest
North: Elders, wisdom, battle, winter, larger perspective, survival
Above: Father Sky, heavens, stars, universe, story, ceremony, Great Mystery
Below: Mother Earth, bones, ancestors, microbial realm, soil, All Our Relations
Within: Mastery, hearth, sovereignty, soul, true self
In noticing and greeting the Directions, be sure to offer special attention to what lies physically in those directions for you, right then.  Notice the trees, the mountains, clouds, sun rising or moving across the sky, the stars.  Be as curious about these companions on your journey as you might be of a person entering a room you sense may be a kindred spirit.  Pay attention to what it feels like within you to experience the nature in each direction, encircling you.
I Walk In Beauty
Below is a sacred song for restoring us to Beauty — within our surroundings, the universe, and within ourselves.  I encourage you to learn the song and sing it to yourself whenever you need reminding of the Beauty all around you!
The words are:
I walk in Beauty
Beauty is before me
Beauty is behind me
Above and below me.
You can also sing a second verse (not sung in the video):
I walk in Beauty
Beauty is before me
Beauty is behind me
Around and within me.
A little about the video:
  Last July I participated in creating harp music for a worldwide Peace Hour, initiated by Harpists For Peace. Harpers Hall members played as a group and solo, offering music for peace. I led community singing of "I Walk In Beauty", a contemporary setting of Navajo wisdom words to music. You can read more about our Peace Hour offering in my post How I Experienced Village At A Harp Gathering.
Here (revealed for the first time 🙂 ) is the video of my musical offering. Please join in the song.  May you experience yourself walking in Beauty!
~~~
Return To Singing Deer Healing Home