As part of Chants and Plants, harper and herbalist Jane Valencia and medieval chant specialist,vocalist, and cantor Erin Durrett present workshops and retreats on Hildegard's music and medicine. Please contact them here.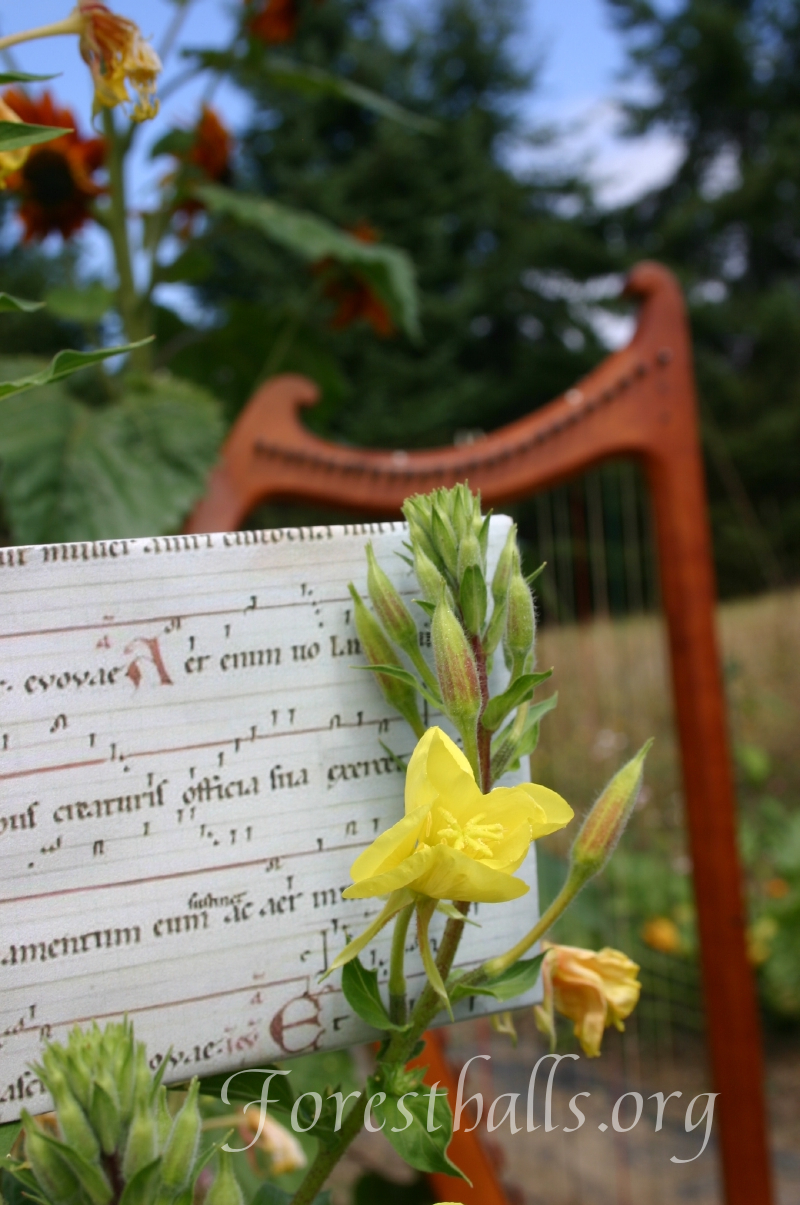 Hildegard von Bingen (1098-1179) was a German abbess, composer, mystic, skilled healer, and saint. Discover how herbal medicine and her music mirror one another as expressions of the Sacred both within ourselves and in the world around us. In our workshops and retreats we'll get to know the plants and their healing language and sing chant too. We'll receive spiritual and physical nourishment from both, as well as from our sharing in community. These offerings are come as you are: no musical experience is necessary! If you have an instrument, you're welcome to bring it.
Please inquire to find out about our upcoming retreats, to set up one in your area, or other questions related to this offering.
About Your Guides:
Jane Valencia loves welcoming folk of all ages into the enchantment of our human relationship with the green world that surrounds us. Through medieval European, Celtic, and folk healing traditions, she helps the herbal curious to experience the wisdom and beauty of forgotten or suppressed herbal ways as the living and breathing expressions of our inherited connection with the plants and the sacred earth.
As an herbalist, naturalist, harper and scholar with a long-standing love of early music and medieval sacred sense, and a former co-director of the Vashon Threshold Choir, Jane has found herself drawn time and again to the medicine and music of Hildegard von Bingen, 12th century saint, physician and composer. Jane enjoys teaching about Hildegard's "chants and plants" as paired healing modalities that speak to the heaven and earth of our bodymind, and which we can work with in practical ways today.
Erin Durrett has been a cantor for sacred liturgy for twenty-five years and is currently Director of Music Ministries at Church of the Holy Spirit (Episcopal) on Vashon Island where she also writes music for the Puget Sound Zen Center.  She was a founding member and assistant teacher of the Seattle Medieval Women's Choir under the direction of Margriet Tindemans for several years and will be teaching a workshop on Hildegard and the Water of Life in Iona, Scotland in 2020 as part of an international conference on music as a medium of healing.
Erin loves working with people of all ages and teaching music from all periods, genres and cultures.  She has recently taught workshops on the Harmony of the Spheres, Chants of the Divine Feminine and most recently using chants from all over the world as part of daily spiritual practice.