Announcement: My radio interview on Wheel Of Wonder has been rescheduled to Sunday morning, December 26, at 8 a.m. Listen via streaming audio as Ray and I discuss healing harp, bardic expression, animal and plant medicine lore, and even homeschooling. You'll get to hear selections of my music too!
~~~~
In honor of the Winter Solstice, the Full Moon, and a full lunar eclipse tonight I am posting a poem I wrote years ago and have set to music, but have not yet recorded. (I plan to record it in the coming year).
If you get the chance, step outside tonight (11:41 PM PST) to view the eclipse and celebrate our longest night!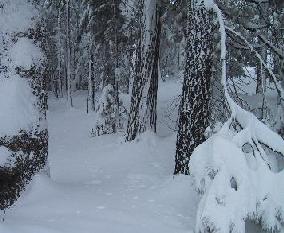 Forest Carol
by Jane Valencia (c) 2001
Quiet night
Blue snow
Hidden Moon twirls a skein of light
Snow falls
Soft woolen coins
spinning between antler branches
A Christmas rose unfurls
from her clouded petticoats
She dyes petals within silent ponds
Wait here! This Mystery
threads interlace paths
within a loom of trees
Branches shuttle
verses into song
stretching music across the sky
Moon! Your footfalls
on the new-woven snow
reveals patterns in this winter grove