Hello, dear Friend!
I'm so glad for your company.  I was about to step into the Greenwood.  Would you like to join me?
Ah, who have we here?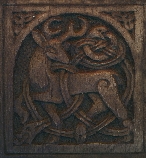 A Celtic stag appears in the dark grove.   It is the Stag who often leads us into Faerie!
The trees open, and we find ourselves in the open.
Lovely hens browse a garden.  Mm, those greens look delicious!  Pluck a leaf, taste.  Have you ever nibbled anything so yummy and alive?


Now, what?  Let's take a look around, wander the field.  Perhaps a path leads to sea, back into the woods, to chapel ruins, to the village …  Let's find out!
The adventure begins!